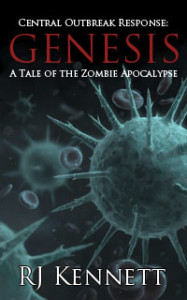 Here's a trivia question for those who have read COR: Genesis: What is Eva's last name?
Well, if you're reading the 1st or 2nd editions, it depends on the chapter you're in. In chapter 4, it's Hernandez. In chapter 5, it's Morales. That is one of many errors or oversights I found after painstakingly combing through the 2nd edition in an effort to ensure my novel is as clean as can be, and is worthy of my readers. (In the now-released 3rd edition, it's Hernandez in both places. Why? Coin toss.)
Other fixes include numerous typos and a few merged sentences ("Do you think you could you kill him" from chapter 2, for example), a much more streamlined theological discussion in chapter 9, a cleaner, list version of my recommended fellow authors, and a few sentences rewritten for clarity. The story itself remains the same; no one who died was magically resurrected between versions and no one who lived was killed off.
The 1st edition had even more typos (and I was so sure it was perfect before I uploaded it on launch day), but was only distributed to about 16 people (mostly friends and family) before I uploaded the 2nd edition.
The 2nd edition was better edited than most indie novels (or traditional publisher's novels that were converted with optical character recognition technology), but obviously had a few errors to which I've already confessed. It was purchased by about 250 people before the updated 3rd edition went up early this morning, about 2 AM.
So here's the deal: the 3rd edition should be nearly flawless, if I was as thorough as I thought I was. If you catch a typo, character's names being changed or other illogical oddities occurring: email me through this site and let me know. If you're the first person to identify the problem, I'll gift a copy of the sequel, tentatively titled "COR: Exodus", when it is released. (Sign up for my newsletter if you would like to be among the first to know the release date!)
If you have either the 1st or 2nd editions, you should be notified in about a month (or whenever Amazon gets around to it) that a new version is available. Enabling "auto-update" from the "Manage Your Kindle" feature in your Amazon account should allow it to, well… auto-update, when Amazon has verified that significant changes were made. They want you to have a quality e-book as well.